The Sacramento River House is a private riverfont getaway, ideal for families and large groups. The home is completely furnished, comfortable and airy with a large back patio, two sunlit side yards, and is pet friendly.
- The more the merrier! 2,100 sq. ft., 3 bedrooms, 2 bathrooms, sleeps 10

- Enjoy riverfront views on the back patio, perfect for barbequeing and entertaining

- Cozy up to our firepit and enjoy the sunset

- Practice your swing on the driving range

- Relax in our spacious family room, complete with a wood stove for cooler months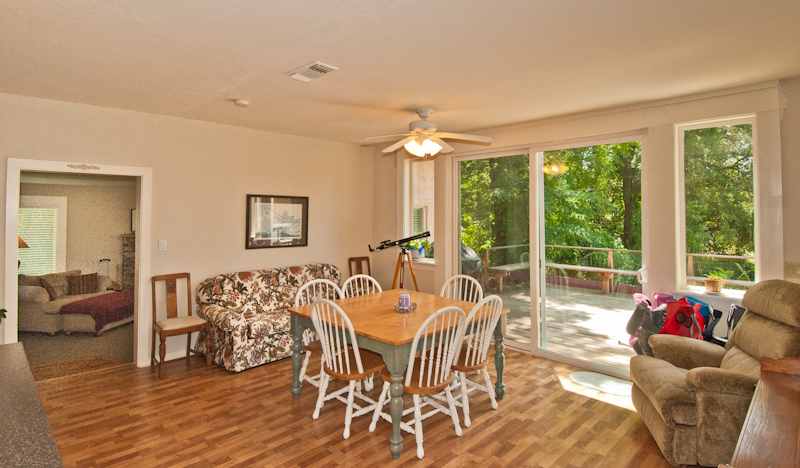 A classic red barn that makes a great venue for get togethers and weddings.
- Open up the barn doors during your event for an indoor/outdoor experience
- Unlimited Parking
Nestled in the middle of the Shasta Cascade Wonderland, a 1000-foot private driveway leads you to onto the 15-acre property with the main home and barn.Take a walk to the field behind the house to enjoy 400+ feet of riverfront access and views. Continue exploring the sprawling property and you'll find towering valley oaks and black locusts planted by the first settlers over 150 years ago.
- A great jump-off point for the many outdoor experiences that Shasta Cascade has to offer, the property is ideally located one mile from Interstate 5 and the Redding Municipal Airport, 20 minutes from Lake Shasta and Whiskeytown Lake, and one hour from the Mt. Shasta Ski/Board Park.
- Stay on the property to enjoy boating, fishing, a driving range, and other outdoor activities right in your own backyard!
- Just down the road is Kent's Meat and Grocery, a family-owned grocery and sundries store with an on-site butcher, fabulous deli, fresh produce, and the best means, wine, and spirits in town.